Products that I Recommend
Tap on a link below to learn about Products that I Recommend.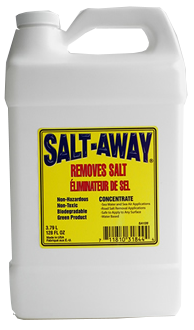 Salt-Away is a water-based, non-hazardous, biodegradable solution and contains properties that dissolve, release and remove salt crystals from any surface. Water alone does not remove all the salt from a surface. Use of Salt-Away does not correct past damage but will work to protect against salt corrosion and reduces costly repairs caused by salt. Salt-Away breaks apart and removes salt accumulation with repeated use.
Salt-Away can safely be used on all metals, fiberglass, paint, rubber, plastic, chrome, glass, concrete, brick or any surface exposed to salt. Salt-Away, mixed with water, washes away the salt then leaves a protective film on surfaces until surfaces are again exposed to water or salt. Special high-performing corrosion inhibitors in the product help protect metals from corroding if not rinsed off. Salt-Away will not strip wax or cause streaks or spots. It is easy to apply by using pressure or power washers, Salt-Away's special Mixing Unit, the ready-to-use spray bottles for smaller jobs, and by immersing items into a mixture of Salt-Away and water.
---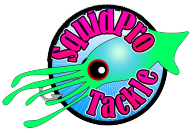 FAT Squids: John Beath first designed and developed the original 10-inch FAT Squid to create the world's best squid lure. The FAT Squid has a built in rattle, scent ball, and a unique "squid hole" where a chemical light stick can be inserted. With a light inserted the FAT Squid lights up from inside to create the most lifelike squid lure ever produced.
The FAT Squid comes fully rigged with super heavy duty stainless rope cable, heavy duty swivels at both ends and a 9/0 siwash J-hook that connects to a heavy duty stainless steal split ring for quick and easy hook changes. The FAT Squid is designed with lifelike mantels on the head and bulging fluorescent red eyes. The top of the FAT Squid is FAT and the waist above the tentacles is slimmer to allow for an incredible undulating action. The tentacles are long, tough and produce a lifelike action.
The FAT Squid will catch halibut, lingcod, rockfish, tuna, marlin, sailfish, jacks, dorado, and virtually any game fish that eats squid.